Autism-Accessible Events at our Public Libraries
A critical part of our mission is to help create a community that is more inclusive, accepting, and accessible to autistic people and their families. The Iowa City Autism Community (ICAC) has been pleased to work with two area public libraries to host monthly autism-friendly events. Both the Iowa City Public Library (ICPL) and the North Liberty Community Library (NLCL) have opened their doors to autistic individuals and their families in order to allow them to feel free to be themselves, enjoy a calmer and quieter library and take part in activities designed with their interests in mind.
We have enjoyed visits from therapy dogs from One on One Therapy Dog Consulting as well as Therapy Dogs of Johnson County, and Marigold, the therapeutic miniature horse from Winds of Change Mini-Equine Therapy. The NLCL provides sensory activities, and the ICPL has organized special story-times during their events.
Families have truly enjoyed being able to explore the library together in this low-stress, welcoming environment.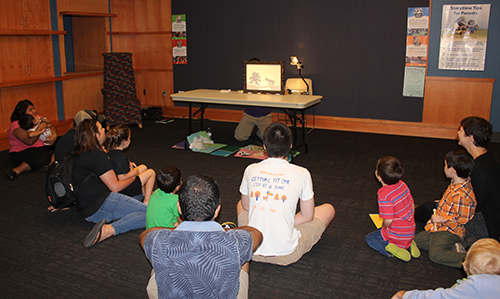 Libraries currently offering autism-accessible browsing services are:
The Iowa City Public Library. Learn more about their library browsing hour here.
The North Liberty Community Library. Accessible browsing hours are offered every other month and include free crafts, special story times and much more. Check the Iowa City Autism Community calendar for more information about activities taking place during these events.
NEW The Antelope Lending Library. This mobile library service is now offering a "sensory stop" every Wednesday from 8 am – 5 pm at 502 3rd Ave in Iowa City. Water tables, sensory activities and fine-free check out will be available to anyone. Learn more here.
ICAC is honored to have had some of these events featured locally and in two national library journals. Read more here :
http://lj.libraryjournal.com/2016/09/library-services/iowa-city-pl-institutes-autism-accessible-browsing-hour/#_
http://www.webjunction.org/news/webjunction/autism-accessible-browsing-icpl.html
http://www.thegazette.com/subject/news/iowa-city-public-library-will-open-early-for-accessible-browsing-hour-20160915
The Antelope Lending Library's Sensory stop has also been featured here –
http://www.thegazette.com/subject/news/bookmobile-stop-caters-to-autistic-children-in-iowa-city-20170704
If you would like more information about autism-accessible browsing, or would like to know how to create this opportunity in your community, please contact us at jessiewitherell@hotmail.com