When:
July 24, 2019 @ 2:30 pm – 3:30 pm
2019-07-24T14:30:00-05:00
2019-07-24T15:30:00-05:00
Where:
The Iowa City Public Library
123 S Linn St Iowa City IA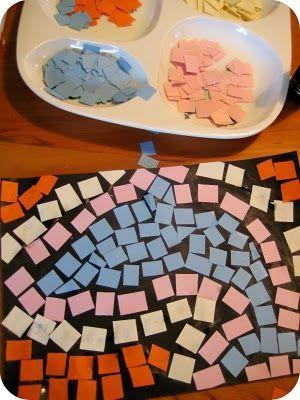 Wednesday, July 24, 2019 –2:30pm to 3:30pm
This encore World Wednesday program is for intended for individuals with autism and their families to enjoy the library together in a neutral environment. A general audience World Wednesday program is at 1:00.
This year's Summer Reading Program theme is "A Universe of Stories." One way we can discover new stories around the world (and beyond) is to encourage cultural literacy. On Wednesdays, join us for an activity that will help us learn and understand something new about different world cultures.
One of the lasting artistic legacies from the ancient Greeks is the art of the mosaic. A mosaic is a picture made up of small pieces of glass, pottery, or small tiles. Thousands of small pieces of colored tiles are placed together so that all together they make up a picture. Often depicting pagan gods, people and animals, the Ancient Greeks were the first to use what is known today as tesserae or the many small pieces of marble, glass, or tile that comprise a mosaic artwork. This Wednesday everyone will have the chance to create their own mosaics in the style of Greek mosaic tradition!
If you need disability-related accommodations in order to participate in this event, please contact the Library.
This event is open to the public.